With electric vehicle (EV) sales expected to reach 35% of automotive sales in North America by 2040, according to BloombergNEF, now is the time for businesses to start serving EV drivers. If now these businesses could risk customers taking their business elsewhere. Rent2Park™ serves customers access to privately owned charging, and this has shown us that EV charging can be a huge business opportunity for many organizations, both in terms of revenue generation and customer loyalty.
Rent2Charge™ stations are one of the ways Rent2Park™ plans on helping with the current lack of infrastructure in the US, and on one side of the spectrum, DC fast chargers can add 150 miles of range an hour or even more, making them a good fit for locations where drivers will be parked for under an hour. This includes fuel retailers and convenience locations, as well as other retail locations such as fast-food restaurants. Align charging speed with your business model to ensure a great experience for drivers and more revenue for your business.
According to EV-volumes data, global sales of passenger electric vehicles (EVs) doubled year over year in February 2022. Data from the California Energy Commission (CEC) and the California Air Resources Board (CARB) shows that electric vehicle sales in the United States surpassed 200,000 for a record high in Q1 2022.
The EV revolution is still at the beginning of its exciting new wave in transportation and BloombergNEF predicts that global passenger EV sales will increase from 3.1 million in 2020 to 14 million in 2025, that's more than 325%.
Understanding that the future of mobility is electric is one thing but transitioning your business to an electric fleet or deciding to offer EV charging to your customers, residents or employees is another matter altogether.
One of the biggest questions businesses have (especially small businesses) is how to pay for it. Fortunately, lots of funds are available from federal, state, and local agencies, as well as utility companies in every region throughout North America.
Phase 3 of our Company model is to partner with or create our own brand of EV changing boxes (Rent2Charge™) that will connect to our app platform and existing customers will gain 10x the amount of EV charging search options by 2025.
What money is out there for businesses?
Before we get this stage, here are options you can looking into regarding costs:
Public funds to help offset the cost of installing EV charging infrastructure are available for every site type in every industry, from workplaces, multifamily residences and retail sites to fleet depots and government entities. The infrastructure design that one organization needs may differ greatly from what another needs, and likewise, numerous variables are at play in relation to funding a project.
Here's an overview of the types of grants, incentives and rebates available in North America.
Utility programs
As EVs gain momentum, regional utility organizations are investing millions of dollars in their service territories to help establish EV charging infrastructure. Available funds from utility programs equal about $2 billion in the U.S. and $3 million in Canada.
ChargePoint is in constant contact with utilities across the U.S. and Canada to stay up to date on the programs and help customers understand what's available in their regions.
Federal, state and local grants and incentives
Billions of dollars in funding from federal, state and local programs have been allocated for EV infrastructure planning and development. Across the U.S., funds available are in the billions of dollars.
The U.S. Infrastructure Investment and Jobs Act (IIJA), passed in November 2021, includes $7.5 billion in federal funding for EV infrastructure. This funding allots $5 billion for the National Electric Vehicle Infrastructure (NEVI) formula program to help pay for DC fast charging infrastructure within one mile of interstate highways. This program requires installation of a minimum of four stations at each site and will allow states to set other requirements. An additional $2.5 billion will support EV charging in rural or disadvantaged communities.
In the U.S. more than $70 million in grants and incentives are also available at the state level.
In California, $1 billion has been designated from the California Energy Commission for light-duty, medium and heavy-duty electric vehicle infrastructure.
Local programs include county incentives, grants from community coalition partners and nonprofits.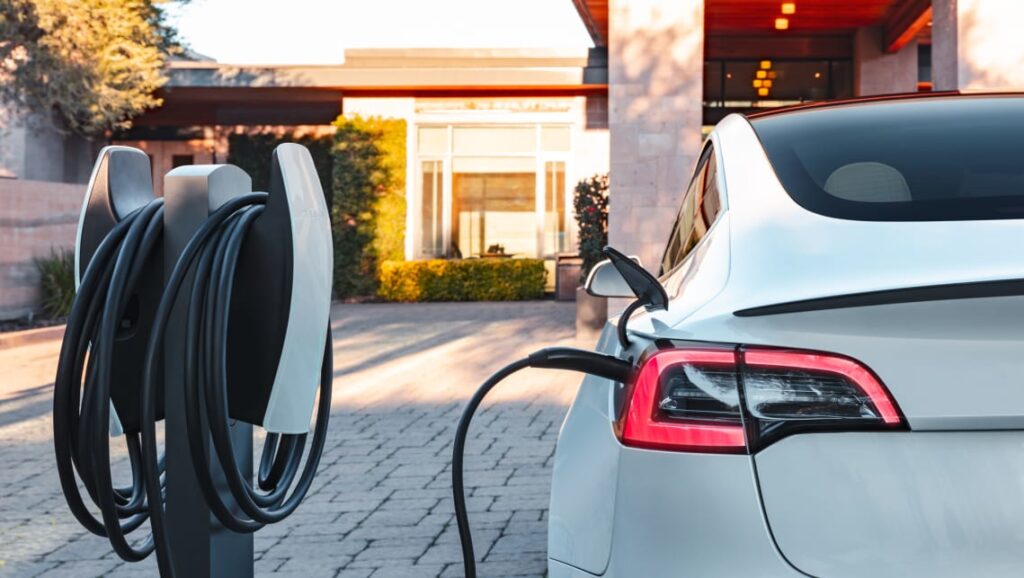 Tax credits for New All-Electric & Plug-in Hybrid Vehicles.
Federal Tax Credit Up To $7,500!
All-electric and plug-in hybrid cars purchased new in or after 2010 may be eligible for a federal income tax credit of up to $7,500. The credit amount will vary based on the capacity of the battery used to power the vehicle. State and/or local incentives may also apply.
Small neighborhood electric vehicles do not qualify for this credit, but they may qualify for another credit.
Rent out your EV charger today: